Overcoming barriers to AI implementation in imaging
Artificial Intelligence (AI) tools have long been anticipated as potentially transformative for diagnostic imaging.
LEARN MORE
At a time of unprecedented pressure for the NHS and our specialties, the potential is great for AI tools to render processes more efficient, freeing up valuable time for staff to focus on patient care and to make best use of their radiology reporting time.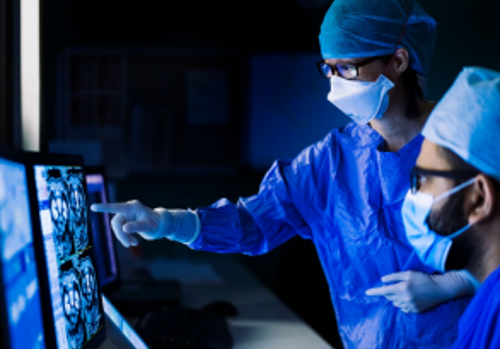 Though there are some AI imaging tools currently in use in NHS trusts, both trusts and AI vendors have expressed frustration at the many barriers to implementation they face. The College convened a stakeholder day on 27 April 2023 to understand these barriers and identify solutions to them, bringing together leading clinical radiologists, people implementing AI within NHS trusts and imaging networks, AI vendors, and NHS England (NHSE) leaders. 
Prior to the day itself, AI vendors were surveyed on their experiences of implementing their tools in the NHS. They were asked to share which barriers they had encountered, why these were problematic, and to suggest possible solutions. 
Summary of Recommendations: 
Develop a single, national information governance set of policies, or policies framework. 
Convene regional/national expert teams to help deploy AI in trusts. 
Focus on a network-level approach to facilitate the rollout of AI. 
Make revenue funding for AI available to each region, for which trusts or local systems (such as imaging networks) can bid. 
A greater emphasis on providing guidance and education to support AI deployment. 
Gather more evidence on patient outcomes and the health economic impact of AI deployment. 
Speed up a cloud-first national strategy.
Our services
Looking into artificial intelligence is just one of the ways we support our members and Fellows. Head to our services hub to find out about access to iRefer, all our publications, and our section on management and service delivery.
More of our services